How does a flour mill process line produce flour?
We have been talk about all kinds of flour mill machines for many times. Today, we are going to discuss about flour milling process. Of course, flour mills are used to turn grain into flour, let's see how to turn wheat into flour. in order to get high quality flour mill in the shortest time. There are some rules you must follow. Wheat is the most common material that used in flour milling.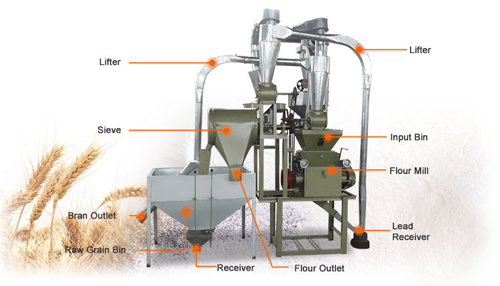 How does a flour mill process line produce flour?
The first stage is complete wash the wheat or other grain. Because foreign material like little rocks.stones, seed or other material. If the wheat is not clean, it may cause damage to the flour mill machine. Then the washed product is passed through an aspirator to suck clean any substance that is less in weight than the wheat grain and could have escaped the first cleaning stage.
Through physical and chemical grading analysis, sampling the cleaned wheat according to their protein content and those with the highest level mix together to produce high quality wheat flour.
After processing of the wheat through the flour mill, we can get different classes of wheat flour. They are classified according to their protein content and usage.
In flour mills production process great precautions are taken to ensure that best flour grade is produced. Every process is conducted by qualified team who ensures that high levels of hygienic measures are taken.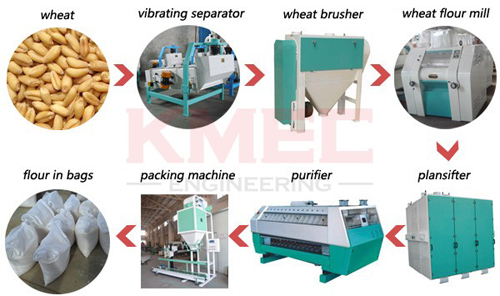 What makes KEMC a reliable flour mill supplier?
Nowadays, KEMC is getting more and more popular among flour mill runners. The number of flour mill machines that KEMC expert is increasing year by year. The number of countries that we have connection is also increasing these years. Which means more and more people are choosing KEMC as their flour mill supplier. KEMC has gained a remarkable reputation over time for stocking and selling flour mills from KMEC for commercial production of different types of flours from wheat, maize, rice, sorghum and so forth. If you do not know KEMC at all, you can visit our website after reading this passage.
There are a lot of factors that you should take into consideration while choosing a flour mill machine supplier, the most common factors are quality,price, delivery and after sale service. KMEC is the perfect that anyone after a satisfying flourmill will check out. KEMC may can not supply you the cheapest price in the market, we can guarantee the quality of our flour mill machine and thoughtful after sale service. The quality of their products have won the hearts of many users since they came to the industry a number of decades ago, oftentimes, resulting to referral sales.
If you do not trust our company or you want to order more machine but can not see the machine youself. Do not worry, we can arrange you to come to visit us. You can see the real set that produce flour mill machines. Seeing is believing. Good products never afraid of testing. We will send our staff to accompany you. With decades years dedicating in flour mill design and installation. We have already grain so much experience and accumulated some long term cooperation partners. With these manufacturers, any user will find the ultimate machine for the intended application, without worrying about formidable costs. The cost of installation is also very reasonable.
The flexibility of the products of the KMEC flour mill manufacturers is something that the user will find very comfortable. With so many flour-milling recipes to experiment with using a single flour- mill, the process is one time, whatever the type of flour intended.