Pneumatic Controlling Roller Mill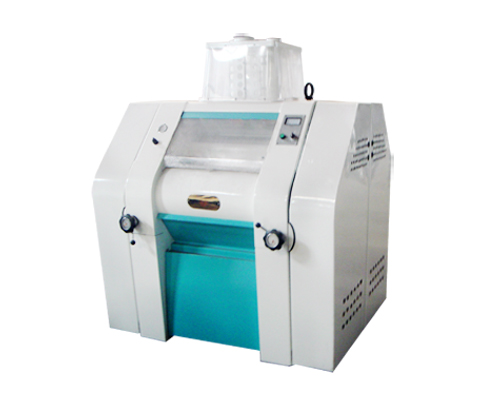 The pneumatic controlling roller mill is the main equipment during the process of flour milling.
Features of pneumatic controlling roller mill
The pneumatic roller flour mill is designed for two parts, the upper part adopts steel material and the under part adopts iron base.
The feeding system of the pneumatic roller flour mill can be moved out completely which makes it easier to fix and maintain thanks to its integrate design. The feeding system can also be driven separately for roller distance adjustment and the roller is highly sensitive for adjustment.
The motor is designed inside and saves the floor space.
The pneumatic roller flour mill has electrostatic spraying surface, the color last long and reduce corrosion.
Model
Roller specifications
(Diameter*L)(mm)
Roller distance
(mm)
Speed
Rotating speed(r/min)
Front feeder
speed (r/min)
Cylinder pressure
(Mpa)
Power
(kw)
FMFQ10*2A
250*1000
250
1.25:1-
2.5:1
450-550
60-260
0.6-0.7
22
FMFQJ10*2
250*1000
250
22
FMFD10*2
250*1000
250
22
FMFQ(3)10*2
300*1000
300
30
FMFQJ(3)10*2
300*1000
300
30
FMFD(3)10*2
300*1000
300
30
FMFQ10*4
250*1000
250
22
FMFQ8*2
250*800
250
22
FMFQJ8*2
205*800
250
22
FMFQJ6*2
250*600
250
22
FMFQ12.5*2
300*1250
300
30
FMFD12.5*2
300*1250
300
30
FMFQJ12.5*2
300*1250
300
30
FMFQ12.5*4
300*1250
300
30