Rotary Flat Sieve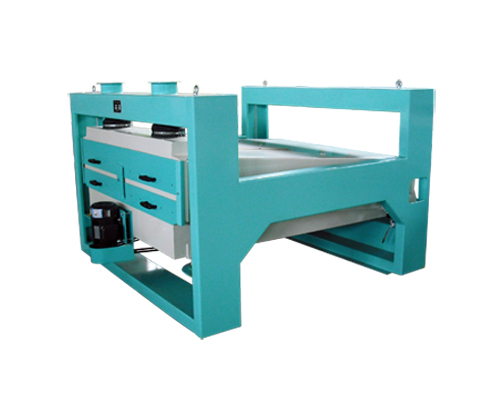 Rotary flat sieve is a grain cleaning equipment equipped with sieve, which is the main working part, and air separator, which is the supplementary equipment. Rotary flat sieve is mainly used for cleaning or grading raw materials in wheat, feed, food and chemical industries. As a grain cleaning equipment, It can choose different sieves according to the requirements of separating different materials, so as to achieve the best cleaning effect.
Features of rotary flat sieve
Outstanding separation effect, efficient remove small, medium and large solid impurities in wheat, maize or other raw materials.
The rotating flat sieve is well sealed and keeps the dust out of air.
Low maintenance design is adopted to replace the sieve quickly. Different sizes of sieve can be selected according to the raw materials.
The rotating sieve has the advantage of low noise, smooth operation, low energy consumption and high output.
| Model | Capacity (t/h) | Power(kw) | Width (mm) | Dimension(mm) |
| --- | --- | --- | --- | --- |
| KQLM-63 | 2-3 | 0.55 | 100*63 | 1355*936*946 |
| KQLM-80 | 3-5 | 0.75 | 150*80 | 2120*1265*1645 |
| KQLM-100 | 5-8 | 0.75 | 150*100 | 2120*1465*1465 |
| KQLM-125 | 5-12 | 1.1 | 150*125 | 2120*1715*1645 |
| KQLM-160 | 12-16 | 1.5 | 160*150 | 2120*2065*1645 |