Vibrating Separator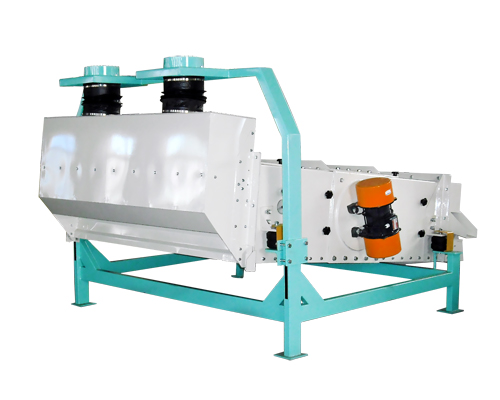 Vibrating separator, sometimes we call it vibrating sifter is a grain cleaning machine used to cleaning wheat, corn, soybean, oats, millet and rice and other materials, or the pre-cleaning of material for bulk storage. The vibrating separator can separate the grain, large impurities and the small impurities. It can also classify the material according to its size.
Features of vibrating separator
Splendid separation effect, efficient cleaning of grain. With two sieve desks, the machine can remove both coarse and fine impurities can be removed.
This vibrating separator adopts low maintenance design, the screen can be replaced quickly and easily in time.
Sturdy design reduces wear and tear and ensures the service life of the equipment.
The vibrating separator is a cleaning machine equipped with rubber ball cleaning device, in order to clean the screen continuously and effectively to ensure the output.
Model
Sieve size
Capacity (t/h)
Power(kw)
Weight (kg)
Dimension(mm)
Precleaning
Cleaning
TQLZ80*100
80*100
20
6
2*0.25
360
1440*1610*1455
TQLZ100*100
100*100
30
8
2*0.25
420
1640*1610*1455
TQLZ100*150
100*150
50
12
2*0.37
520
2140*1610*1455
TQLZ100*200
100*200
60
16
2*0.37
540
2640*1610*1455
TQLZ150*150
150*150
75
18
2*0.55
630
2146*2160*1455
TQLZ150*200
150*200
100
24
2*0.75
650
2640*2160*1455
TQLZ180*200
180*200
120
26
2*1.1
1000
2740*2510*1980